Already 100 years
Established in 1911, J.L. Brissette Ltd. distributes and markets Coca-Cola products in the region of the Laurentians. From "La Porte du Nord" to Mount Tremblant, passing by St-Donat, and more recently Abitibi and Lanaudière, our company assures a complete representation of the products and the implementation of promotions in the affiliated selling points. J.L. Brissette Ltd. is the story of a family involved in the development of the region and active in the community since three generations.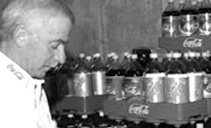 J.L. Brissette Ltd. moves to state-of-the-art premises!
In order to meet the demand and allow the company to continue its growth, J.L. Brissette is moving in brand new premises. [suite]

J.L. Brissette's team includes more than 70 employees during the regular season, but that number rises to 100 during the busy summer season. Our star roster includes delivery and assistant delivery personnel, representatives, warehouse attendants, administrative agents, accountants, technicians, full-service agents, transportation personnel, coordinators, managers and senior managers.
We are proud to include, among our staff, five employees who have more than 35 years of dedicated service to J.L. Brissette. Our workforce has more than tripled since April 2010, when our divisions in Joliette and Rouyn-Noranda joined J.L. Brissette.