Already 100 years
Established in 1911, J.L. Brissette Ltd. distributes and markets Coca-Cola products in the region of the Laurentians. From "La Porte du Nord" to Mount Tremblant, passing by St-Donat, and more recently Abitibi and Lanaudière, our company assures a complete representation of the products and the implementation of promotions in the affiliated selling points. J.L. Brissette Ltd. is the story of a family involved in the development of the region and active in the community since three generations.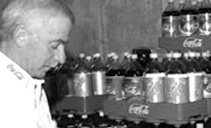 J.L. Brissette Ltd. moves to state-of-the-art premises!
In order to meet the demand and allow the company to continue its growth, J.L. Brissette is moving in brand new premises. [suite]

J.L. Brissette offers distribution services throughout the Laurentians, Lanaudière and Abitibi-Temiscamingue regions. We deliver Coca-Cola products to a host of retail locations, such as supermarkets, ski centres, golf clubs, restaurants, convenience stores and more.
In 2000, we launched a new division – Les Eaux Brissette – to offer delivery services of our bottled water products, as well as the sale of water coolers, to our many clients. Contact us today to obtain more information!